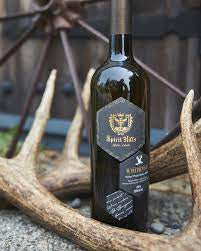 This dry violet flower wine is crafted from wildflower nectar and aged in American Oak barrels. 
On the nose: Smooth warm oak, vanilla violets, pear and gooseberry.
On the palate: Bone dry, crisp, oaky, well balanced acidity, smooth, lemongrass, white stone fruit, great length.
Food pairings: It is a great pairing for white meats, seafood and cheese.
Served: Chilled
Process: Wildflower honey, water, rosehips, and Italian parsley are fermented with champage yeast, then aged in American Oak Barrels for 1 month and infused with violet flowers.