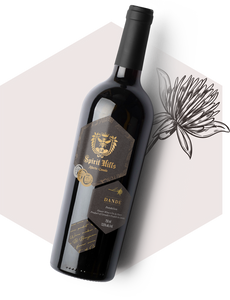 On the nose: Peach, fresh cut straw, violets, and wildflowers. A summer's field with honey.
On the palate: Truly one of a kind. Peach, apricot and honey with a woody lingering tannin behind it. The ultimate full bodied medium dry white wine that keeps asking for more.
Food Pairings: White meats, seafood (especially white fish and shrimp), anything with a tomato in (the acidity makes it a great match), curry (which other wine pairs with curry?), and earthy flavours like carrots, beets, mushrooms, olives and mustard sauce.
Served: chilled
Process: Wildflower honey, water, rosehips and herbs ferment, hand picked dandelion flower petals are added in the finishing process. Aged for 6 months in the bottle.
Cocktails: Great for unique cocktails. Simple at home cocktail: the Danderita – the Cowboys version of the Margarita. Recipy:
Dande – 2 parts
Sprite/7-Up -1 part
Teqiula – ½ part
Lime – ¼ part
Lab Results:
Residual sugars: 19g/L
Acidity: 3.9g/L
Ph: 3.6
Antioxidants: On average 120 times of red grape wine