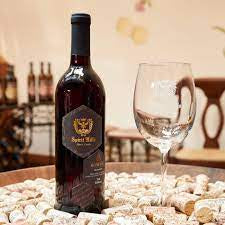 On the nose: warm, sweet berry pie with lots of alcohol in
On the palate: warm like a soothing blanket, berry pie, spices, balance and complexity.
Pairings: Warm bread pudding, cold Alberta winters, cool summer nights, and all outdoor winter activities.
Process: Wildflower honey with some extra dandelion honey, water, black currants, cinnamon and cloves. Aged for 6 months in the bottle.
Served: Coffee/tea hot on cold days and summer bonfire nights. On warm summer days, serve over ice.
Lab Results:
Residual sugars: 62g/L
Acidity: 4.2g/
Ph: 3.5