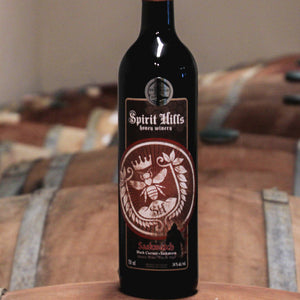 On the nose: black currants, oak, vanilla, smoky tones
On the palate: friendly black currant arrival, but backed with intriguing body and balanced with smokey and peppery tones. Great length and unmatched smoothness.
Food Pairings: Red meats, specifically wild game, lamb, Alberta beef or duck. Because of its smoothness also good with spicy foods like Mexican, Indian or Caribbean. Also pairs well with cheese and given the right side foods could do well with white meats when berries are involved.
Served: at room temperature
Process: Wildflower honey, water and crushed black currants of specifically selected varieties are fermented with a champagne yeast and stored in medium toasted Hungarian wine barrels for 9 months to 1 year.
Lab Results:
Residual sugars: 5g/L
Acidity: 3.2g/L
Ph: 3.5
Antioxidants: On average 100 times more than red grape wine