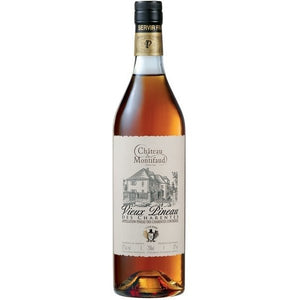 The name Château de Montifaud is historically linked to the land where the distillery sits. A castle used to be located there, which is why the word "château" is permitted to be used, a rarity in Cognac.

Documents show that the Vallet family has been making cognac here since 1837, though the family believes production started even earlier. Sixth generation Laurent Vallet currently runs the business, taking over from his father Michel in 2010.

Pineau des Charentes is the result of stopping the grape juice fermentation within hours of the pressing by blending it with cognac that is at least one year old — a process that originally occurred by mistake in 1589. This leaves an unmistakable sweetness tempered by a fresh fruit character.

Dominant tones range from fresh to gilded straw, then honey, with the gold becoming more intense with age. These are followed by hues of apple green, silver or gold. Pineau are limpid and of great brilliance. Aromas of white and yellow fruit, honey and acacia blossom. Ageing in wooden barrels gives notes of "rancio": ripe and dried fruit, hazelnut, grilled almond, vanilla and buttered toast.

When used as an aperitif, serve at between 8 and 10 degrees Celsius, and add an ice cube if required. Delightful as an Apéritif but can work equally well with fruit based deserts and cheese.