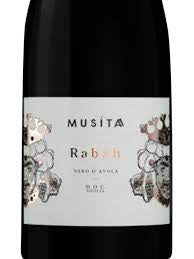 Rabah in Arabic means "winner" and with Rabah from Musita winery, you will definitely feel like one!
Sicily has volcanic soils, sea breezes, and plenty of sunshine, which are clearly reflected in its wines. Musita Winery is a beautiful, family winery in Salemi, Sicily, which creates wines with Italian temperament. Rabah is 100% Nero d'Avola, a variety that smells like cherries. The wine ferments in stainless steel and cement tanks to preserve its explosive aromatic character.
It has medium purple color.
Aromas of fresh red fruits such as cherry, sour cherry, plum and red currant dominate on the nose. Discreet butterscotch notes complement the set.
On the palate it has medium body and discreet acidity. Juicy red fruits and notes of butter and toffee will fill up your mouth in every sip. Pleasant aftertaste that lasts.
Chill it a little and enjoy it next to summer pasta dishes and cheese platters.