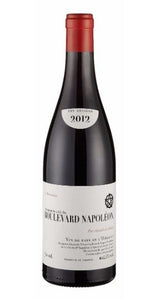 Translucent cardinal red with reflections of garnet.
Delicious and juicy, this is a lighter bodied Cinsault with lots of red fruits (some Cinsault are darker-fruited). This vintage tastes not unlike Gamay; it can be chilled too.
Underneath the juicy fruits there are attractive bleu fruit flavours and some black pepper.


Mixed grills, game, pork roasts, cold meat and cheese platters…